2016 Script Development Series "JANUARY"
Posted on:
January 14, 2016
/
MultiStages Script Development Series
Presents
a Swan Day Event celebrating Women in the Arts during Women's History Month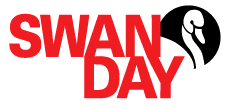 JANUARY
A new play by Paula Cizmar
Directed by Lorca Peress
Video Consultant Christopher Marston
featuring Darlenis Duran, Russell Jordan* Candice Myers* Romy Nordlinger*
Tate Kenney and Keiza Tyson, assistants
*AEA members
One-Night Only Reading
Thursday, March 17, 2016
7PM
Shetler Studio
Penthouse 1
244 W. 54th St. (between 8th and Broadway)
Must RSVP: [email protected]
FREE
JANUARY is a multimedia play about the effects of gun violence on our society. Paula Cizmar presents a shocking and emotive story set within the minds of the mothers of the 10 year-old victim and the 10 year-old killer.
When does public concern turn to obsession?
When does media reporting become exploitation?
Who is the victim?  What is our responsibility?
Can we change the gun situation in the US?
JANUARY was nominated for the Kilroy List and is a MultiStages 2013 New Works Finalist. An earlier version of JANUARY was presented in the 2014 New Works Festival.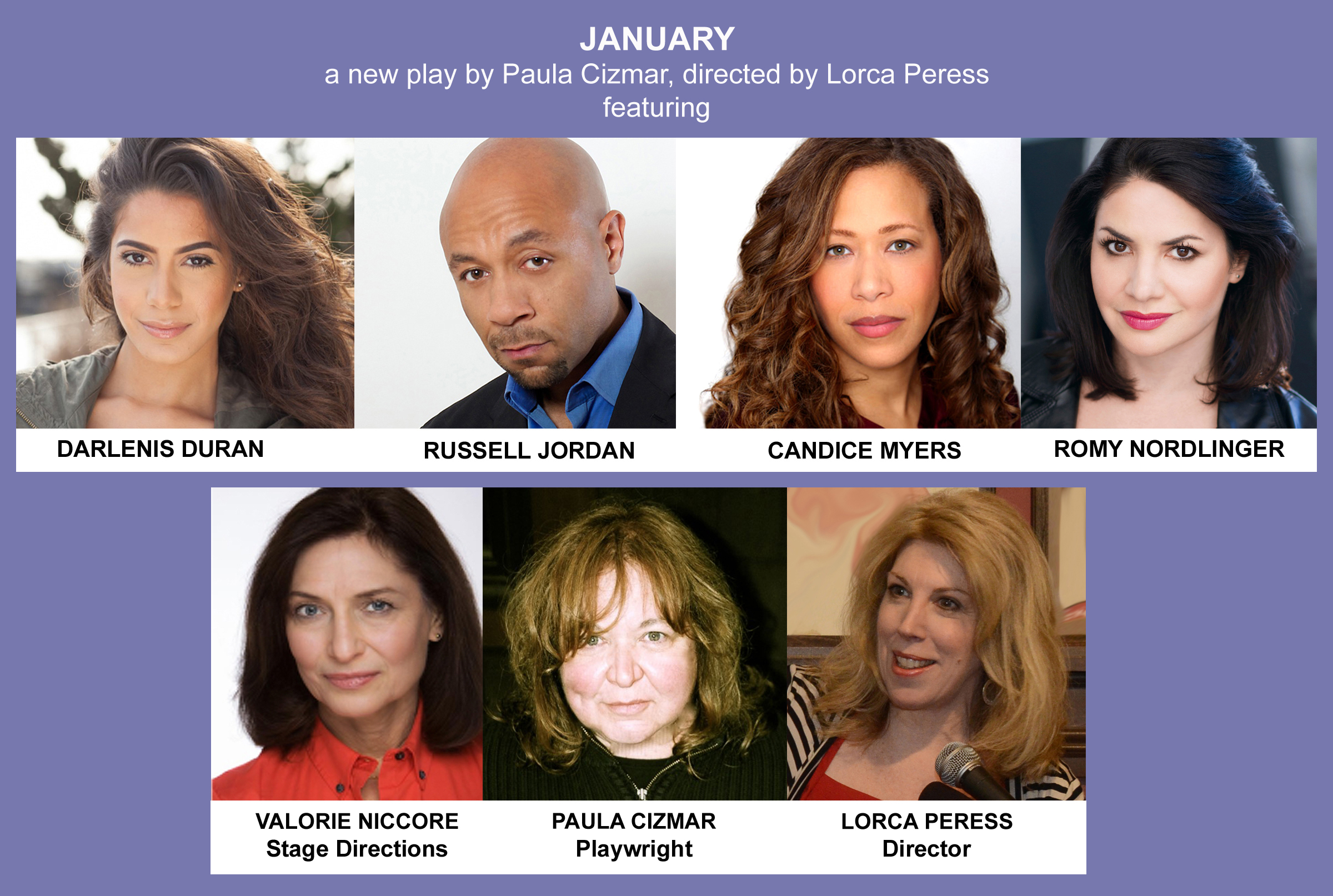 JANUARY CAST
DARLENIS DURAN (Maya) is currently playing the lead in Carmen Rivera's La Gringa at Repertorio Espanol. She appeared in the NY Television Festival 2013 and LA Web Series Festival 2014 official selection Henry web series. Stage credits include: Comida De Puta(HOLA Award Winner), Nadira Simone's Here In Vain, Women Of Manhattan, Spike Heels, Please Have A Seat And Someone Will Be With You Shortly, and Women In Motion. She was runner up on Season 1 of NuvoTV's Model Latina and has appeared in music videos, and print/commercial work. She has appeared in various independent films and is AP of HBO/NY International Latino Film Festival winner Crush. www.darlenisduran.com
RUSSELL JORDAN* (Henry, Media Presence) is grateful to Lorca Peress and MultiStages for the opportunity to be part of the ongoing development of Paula Cizmar's JANUARY. Russell was part of the 2014 MultiStages New Works Festival reading of JANUARY, and in 2010 performed in MultiStages' production of Jamuna Yvette Sirker's Hell and High Water, or Lessons For When The Sky Falls. Russell is a two-time outstanding actor award recipient from the Planet Connections Theatre Festivity, and is currently writing a one-person full-length play recounting his experience escaping the World Trade Center's North Tower on September 11, 2001. www.russelljordan.com
CANDICE MYERS* (Lauren) Selected theater credits include MultiStages Knowing Bliss by Arden Kass, Yeah Girl Whatever with The Dramatic Question Theater, and Third's World written by Arthur W. French III and directed by Broadway veteran Arthur French.  She has appeared in television commercials for Comcast and The Maryland Lottery.  Recent appearances in the web series projects Friends or Just Roomies? (which she co-wrote and co-produced) and Q's One Night Stands" (which has been accepted to several film festivals), and the TV show I Love You…But I Lied.  www.candice-myers.com.
ROMY NORDLINGER* (Joyce, Media Presence) Selected theatre credits: Shakespeare's Slave, Clurman Theatre Row, Lancelot at Judson Gym, Caligula at Kirk Theatre Row, Between Here and There with New Perspectives, R Culture at I.R.T, her original solo piece Nazimova at the Snapple & Metropolitan Playhouse with Stage Struck. She has performed her original play Lipshtick at the NY International Fringe Festival and MITF. Selected regional credits: Actors Theatre of Louisville, Wilma, Fleetwood Stage. Film & TV include Co-Star on Law & Order CI, One Life To Live, The Ruthless Spectator and the upcoming Stephen Frears film Florence. Narrator of over 150 audiobooks. Board Member League of Professional Theatre Women, Member NY Madness, Resonance Ensemble, Playwright Gallery. www.romynordlinger.com
VALORIE NICCORE* (Stage Directions) is a MultiStages Board Member, and has had the good fortune to work in engaging productions throughout the US. Regional California: Queen Ninetta in Carlo Gozzi's, The Green Bird, Nastya The Whore, in Gorky's, The Lower Depths; The Wife in Enrico Buenaventura's The Autopsy from Documents From Hell; Picasso's Desire Caught by the Tail, Countess Geschwitz in Wedekind's, Lulu, directed by Martin Magner. Off Off Broadway: Lady Marlborough in Oscar Wilde's The Picture of Dorian Gray (Oddysey Co.), Blanche in Dostoevsky's The Gambler, and featured in MultiStages' The Palace of Loneliness. TV: Fox's America's Most Wanted, All My Children, Another Worldand Loving. Web Series: Russian refugee in Medical Assistance.
*Members of AEA
JANUARY ARTISTIC COMPANY
PAULA CIZMAR (Playwright) is a playwright whose work often combines poetry and politics. Her plays have been produced at Portland Stage, San Diego Rep, Playwrights Arena @LATC, the Jungle Theater, among others.  Plays include Candy & Shelley Go To the Desert, The Chisera, Still Life with Parrot & Monkey, Street Stories, and Salvage (work-in-progress) for which she received a TCG/Mellon Foundation On the Road grant. She is the recipient of an NEA grant and is one of the writers of the documentary play Seven, which has been translated into 20+ languages and produced in over 30 countries. She is an assistant professor of playwriting at USC. January and The Chisera were first Kilroy List Nominations. January was a MultiStages 2013 New Works Finalist.www.paulacizmar.com
CHRISTOPHER MARSTON (Video Design Consultant) is a filmmaker based in New York City. He collaborated with Lorca Peress on MultiStages' 2015 production of Comida de Puta (F%&king Lousy Food) by Desi Moreno-Penson, and designed video for Dacyl Acevedo's one-woman show Will Work For in 2013. Mr. Marston has extensive professional experience as a video editor (current clients include NBC Universal and Univision).  Also an accomplished cinematographer, previous work includes the entire eight-episode Webby Award winning series Gemini Rising (2010) and pilot for the new series The Weirdness (2015).
LORCA PERESS (Director, MultiStages Artistic Director) Recent MultiStages Directing Credits: Desi Moreno-Penson's Comida de Puta (F%&king Lousy Food) (HOLA Award); Temple Of The Souls musical by Anita Velez-Mitchell, music Dean Landon/Anika Paris; book A. Velez-Mitchell, A. Paris, Lorca Peress (6 Innovative Theatre Nominations, 4 HOLA Awards). Other Credits: Bernstein's MASS (Queens College, National Opera Assoc. 3rd Prize); Nichole Thompson Adams' Black Girl You've Been Gentrified (Public Theatre). Faculty: NYU Tisch Strasberg Studio, Strasberg Theatre and Film Institute. Memberships: SDC, AEA, League of Professional Theatre Women (Co-President 2011-14), Creative Network for Federal Affairs Administration Office of the Governor of Puerto Rico. Bennington College and NTI graduate.