2021 SEASON – SPEAKOUT FESTIVAL
In February 2020, MultiStages went dark due to NYC's COVID-19 restrictions; general anxiety caused by lock-down and the deaths of family members, friends and colleagues set in. We were a company in mourning. When the BLM movement happened, MultiStages collaborators took to the streets. The streets were our theatre, the screams were real, and the pain was palpable. In deciding how to support this movement, and address the politics and pandemic surrounding us, Artistic Director and activist, Lorca Peress, created the idea of a multicultural, multidisciplinary SPEAKOUT call-to-action Festival.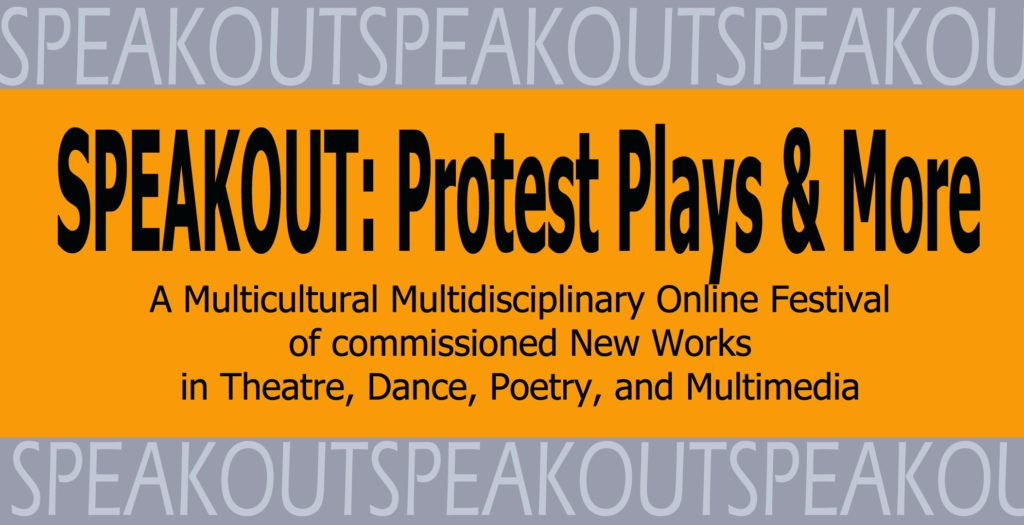 GET YOUR TICKETS
BENEFIT OPENING NIGHT: Monday, June 21, 2021
Live Audience and Meet the Artists Talk-Back
TICKETS: $35.00
STREAMING ON DEMAND: June 22-25, 2021
After the Benefit, see the Festival for 4 days only.
TICKETS: $10.00
SPEAKOUT is a virtual festival that highlights the times we are living in and stories we need to tell. Through a variety of artistic lenses: theatre, dance, poetry, and multimedia, we invite you to join us in solidarity.
MEET THE COMPANY:
Commissioned New Works written by Gena Bardwell, Melody Cooper, Fengar Gael, Dorothy Tan & Nathan Yungerberg.
Commissioned New Modern Dance Works by Jennifer Chin.
Poetry by Gloria Vando.
Actors: Kate Bornstein, Dimitri Carter, Rainbow Dickerson, Brie Eley, Vanessa Guadiana, Wai Ching Ho, Michael Gene Jacobs, Amanda Salazar, Donnell E. Smith, Michael Striano, Messeret Stroman Wheeler, Lu Yu.
Dancers: Jennifer Chin, Madeline Jafari, Anne Parichon-Buoncore, Oscar Antonio Rodriguez, Richard T. Sayama.
Directors: Kimille Howard, Toussaint Jeanlouis, Eugene Ma & Lorca Peress.
Projections, Video Backgrounds, Editing by Jan Hartley, Sound/Music by Sun Hee Kil, Costumes by Lisa Renee Jordan, Dances filmed by Jan Hartley & Michael Lee Stever, "Rage" Dance featuring drummer Paul Peress, Poem filmed by Anika Paris. 
Production Stage Manager: Zija Brubaker Lubin-West
Press Representative: Jonathan Slaff & Associates
Producing Artistic Director Lorca Peress, Associate Producer Gena Bardwell
"SPEAKOUT: Protest Plays & More" is made possible in part with public funds from Creative Engagement, supported by the New York City Department of Cultural Affairs in partnership with the City Council and administered by LMCC. Other support includes the N.W. Dible Foundation, A.R.T./New York Relief Fund for NYC Small Theatres, the Cultural Arts Solidarity Fund administered by the Indie Theatre Fund, and private donations.
MultiStages expresses its gratitude to the performing unions, Actors Equity Association, American Guild of Musical Artists, American Guild of Variety Artists and SAG-AFTRA, through Theatre Authority, Inc. for their cooperation in permitting the artists to appear on this program.