2017 The Future is Female Festival
Posted on:
January 17, 2017
/
"THE FUTURE IS FEMALE" Festival
MultiStages is joining the movement with our own multicultural and multidisciplinary "The Future is Female" Festival of Women Playwrights, Dancers, Composers, Musicians, Poets, and Artists.  The Future is Female Festivals are being presented across the country in March 2017 in honor of Women's History Month. Let's come together in solidarity to protect women's rights and our future.
TWO NIGHTS ONLY
Tues., March 21 and Thurs., March 23, 2017 at 7PM
The Shop Theatre
CAP21, 18 W. 18th St., 6th Fl.
RSVP: [email protected]
Tickets $10.00
FESTIVAL PRODUCTION PHOTOS
Photos: Hunter Peress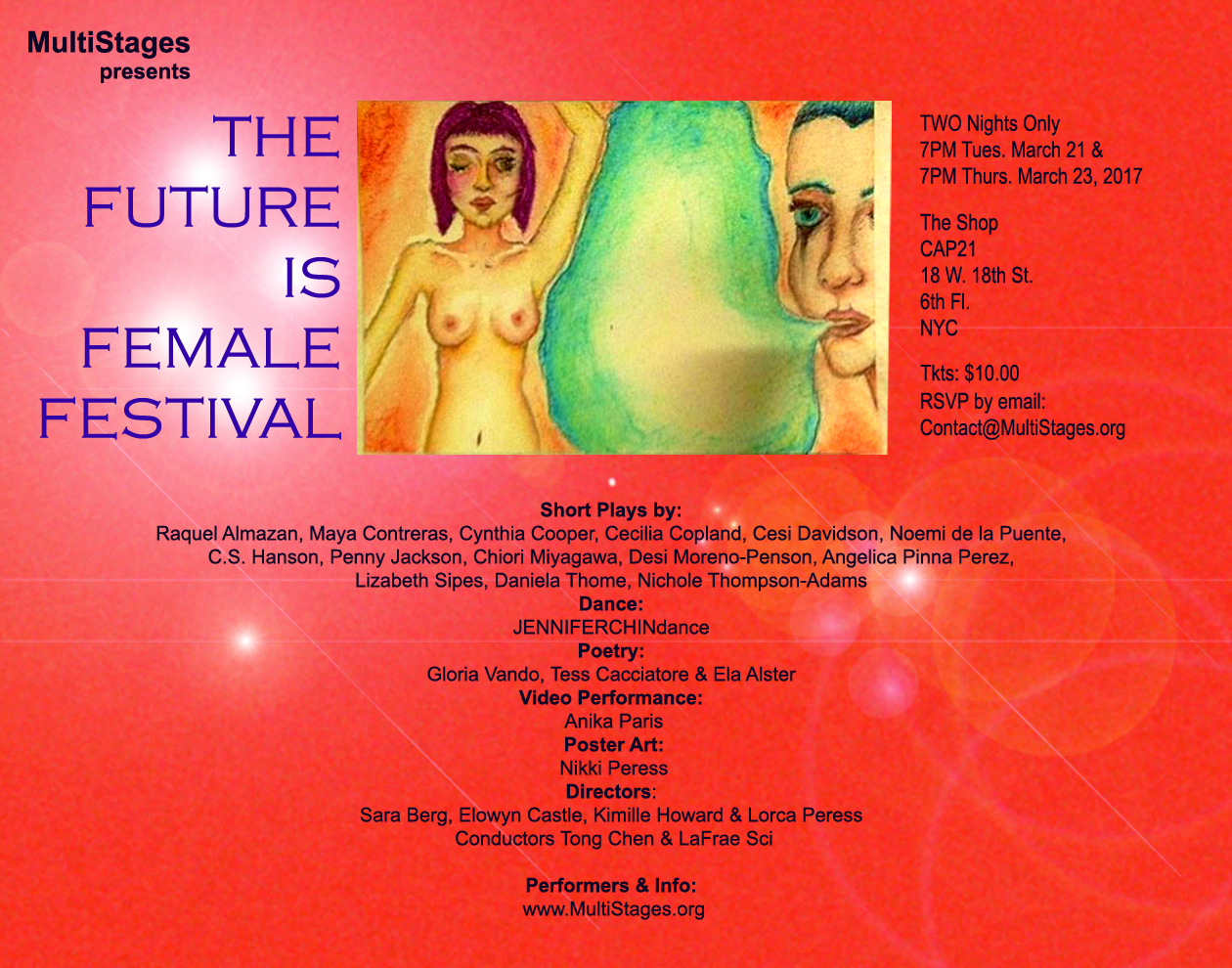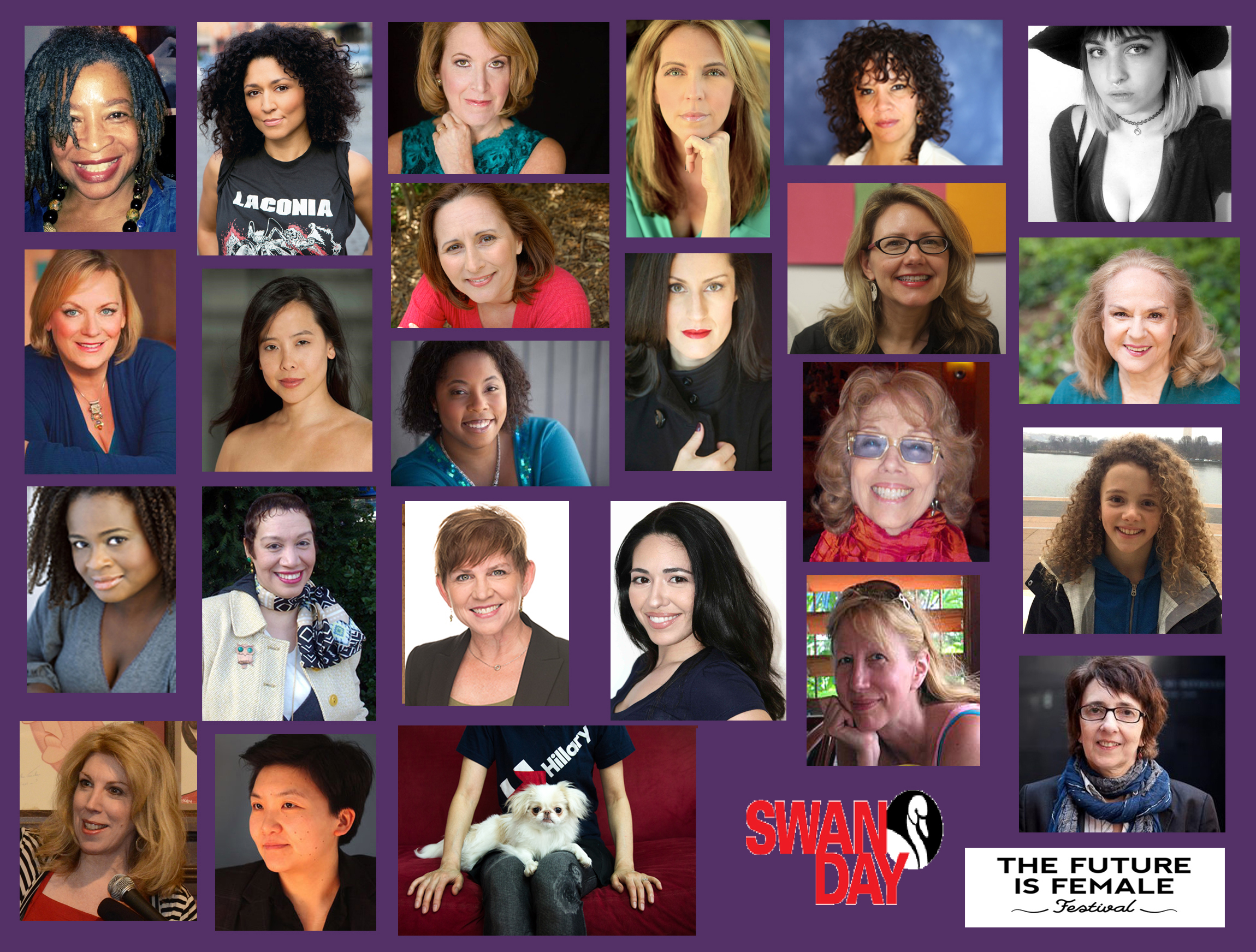 MultiStages Festival Participants:
Playwrights:
Raquel Almazan, Maya Contreras, Cynthia Cooper, Cecilia Copland, Cesi Davidson, C.S. Hanson, Penny Jackson, Chiori Miyagawa, Desi Moreno-Penson, Angelica Pinna Perez, Noemi de la Puente, Lizabeth Sipes, Daniela Thome, Nichole Thompson-Adams
Dance:
JENNIFERCHINdance
Poets:
Ela Alster, Tess Cacciatore, Gloria Vando

Video Performance:
Anika Paris
Poster Art:
Nikki Peress
Conductors:
Tong Chen, LaFrae Sci
Directors:
Sara Berg, Elowyn Castle, Kimille Howard, Lorca Peress
Performers: Andrea Abello, Raquel Almazan, Tonia Anderson, April Armstrong, Gena Bardwell, Sara Berg* Darryl K Brown, Tess Cacciatore, Kim Chinh, JY (Jeong yun) Chun, Bobby Crace, Veronica Cruz* Noemi de la Puente, William Franke* Victoria Franzetti, Joy Kelly* Kathryn Layng* Tate Kenney, Romy Nordlinger* Anika Paris, Desi Moreno-Penson, Lorca Peress* Angelica Pinna Perez, Tanya Perez* Gary Ramsey, Clea Straus Rivera* Crystal Rodriguez, Kate Armstrong Ross, Dan Teachout* Daniela Thome, Nichole Thompson-Adams, Gloria Vando, Alexandra Williamson
*AEA members
Union performers appearing courtesy Theatre Authority
"The Future is Female" Festival was created by writer Mya Kagin. Instead of merely honoring women's history in March, the festival will celebrate women's futures. Following the election, Mya was struck by the phrase, "The Future Is Female," which recently emerged and has taken on great significance during and after the election with many women re-contextualizing the phrase into their own modern interpretation. By participating in this joint venture, our voices are magnified and we can create a larger impact across the country.
Strength in numbers — Stronger Together.
For more info on Women's History Events:
https://thefutureisfemalefestival.com/
http://www.womenarts.org/swandates/

MultiStages "TFIF" Festival is a Swan Day Event!