2017 New Works Contest Results
Posted on:
January 13, 2016
/
MultiStages was founded in 1997 to give voice and opportunity to underrepresented playwrights and artists who challenge society, convention and traditional theatre, embrace multiculturalism and a variety of artistic disciplines in their work. This year's Contest received 185 multidisciplinary and multicultural script submissions from around the world. We are thrilled to offer a platform for these deserving artists.
MultiStages 2017 New Works Contest Winner:
OMINOUS MEN
by Desi Moreno-Penson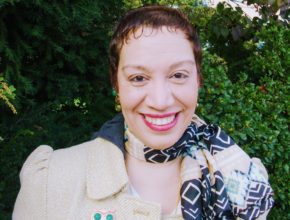 OMINOUS MEN, tells the story of three men who get together in the sub-basement of the derelict and abandoned Concourse Plaza in The Bronx for a night of drinking, smoking, camaraderie, and a game of "Bones." The eerie sound of falling pebbles on the steps, the ghostly sobs of a woman long dead, the angry apparition of a Jewish Holocaust survivor, and the appearance of a sinister stranger turn their party into a supernatural night of the soul. And it all happens during the 1977 NYC Blackout. 
If you were able to catch Desi's play, COMIDA DE PUTA (F%&king Lousy Food), produced by MultiStages in 2015, get ready to be blacked out by this one!  A full production of Ominous Men will be produced in late 2018 or early 2019.
Desi Moreno-Penson's plays have been developed/produced at Ensemble Studio Theater (EST), INTAR, Perishable Theater (Providence, RI), Henry Street Settlement, The Puerto Rican Traveling Theater, SPF-Summer Play Festival, terraNOVA Collective, The Downtown Urban Theater Festival (DUTF) @the Cherry Lane, Urban Theater Company (Chicago), Teatro Coribantes (San Juan, PR), among others. Her play, BEIGE received Honorable Mention on The Kilroys List 2017, and is the winner of the 2016 National Latino Playwriting Award sponsored by the Arizona Theater Company, a finalist for the 2016 Eugene O'Neill National Playwrights Conference, a finalist for the 2017 New Works Festival at Kitchen Dog Theater in Dallas, and a semifinalist for the 2016 Princess Grace Award for emerging artists. In addition, the play was selected for the inaugural list of 50 Playwrights Project's Top 8 Best Unproduced Latinx Plays for 2017, and was nominated for the 2018 Mentor Project at the Cherry Lane. Another play, COMIDA DE PUTA (F%&king Lousy Food), is the winner of the 2013 MultiStages New Works Contest, a finalist for the 2014 O'Neill NPC, received Honorable Mention on The Kilroys List 2015, and given its world premiere production at the West End Theater (NYC), produced by MultiStages Theater Company, and directed by Lorca Peress. Her plays, GHOST LIGHT, DEVIL LAND, LAZARUS DISPOSED, and 3 TO A SESSION: A MONSTER'S TALE are published by Broadway Play Publishing, and a ten-minute play, SPIRIT SEX: A PARANORMAL ROMANCE, was selected for the short plays anthology, "Best Ten-Minute Plays of 2010," published by Smith and Kraus. She has an MFA in Dramaturgy and Theater Criticism from Brooklyn College, and is a proud member of the Dramatists Guild, SAG-AFTRA, and the Going To The River Writers Unit at the Lark New Play Development Center in New York City. Desi lives in The Bronx with her wonderful husband Anthony, and their cat, Choo-Choo.
LINK TO OMINOUS MEN PRODUCTION: 2019 PRODUCTION
MultiStages 2017 New Works Contest Finalists:
LA RUTA by Isaac Gomez
HANG MAN by Stacy Osei-Kuffour
ATALANTA K.O. by D.L. Siegel
The Finalist plays will be presented in the New Works Finalist Festival in Spring 2019.
LINK TO NEW WORKS FESTIVAL: 2019 FESTIVAL
CONGRATULATIONS TO ALL!
Thank you to the amazing judges for your expertise, dedication, and heart. Thank you to the playwrights who submitted their exceptional work to MultiStages. You made this our most challenging and exciting New Works Contest since its inception in 2001.
The next Contest and guidelines will be announced at a later date.